Centralina Economic Development District (EDD) continues to progress in the implementation of its Comprehensive Economic Development Strategy (CEDS) with a recent nationally recognized economic development win.  The U.S. EDA announced on October 26th (press release) their selections for the federal Tech Hub program and identified the Carolina Innovation Center for Optics and Metrology (CICOM) Consortium as a winner of a Strategy Development grant award of $500,000. 
University of North Carolina at Charlotte (press release) was the lead organization on this application to build capacity and strengthen innovation and technology for optics and precision metrology in the region.  The Centralina Regional Council/Economic Development District and Charlotte Regional Business Alliance provided technical assistance and support throughout the process.  The consortium will continue to look at ways to increase local coordination and planning activities to make the region more competitive as it continues to refine its strategy for Tech Hub designation over the next 18-36 months. 
The Tech Hub strategy implements several of the Centralina EDD CEDS action items under Goal 3: Strengthen Economic Resilience and Global Competitiveness.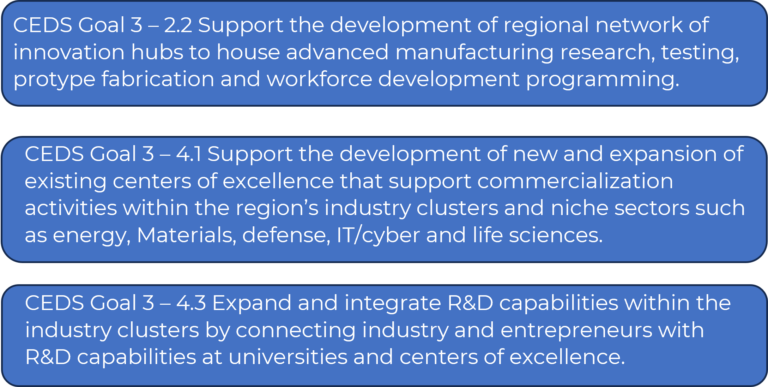 A special thank you to Centralina EDD Board Member Betty Doster, Special Assistant to the Chancellor for External Relations & Partnerships, from UNC Charlotte for helping to coordinate the EDA application and to Alan Kathman, Senior Director of Optics/General Manager, FLIR Systems, an optics industry leader and long-time Centralina EDD board member for his participation in the CICOM consortium.